This week I've got a brand new episode of the Never Normal show for you, plus 36 ways to be Never Normal, and my advice for Digital Nomads.
Vikram Seth is back to talk about turning your passion into a business. You might remember Vikram from episode 018, where we discussed his sabbatical – How to Take a Year Off and Balance Your Life.
In this new episode, Vikram shares how he approached making money without a job, and the process and struggles of turning something you love doing into a business.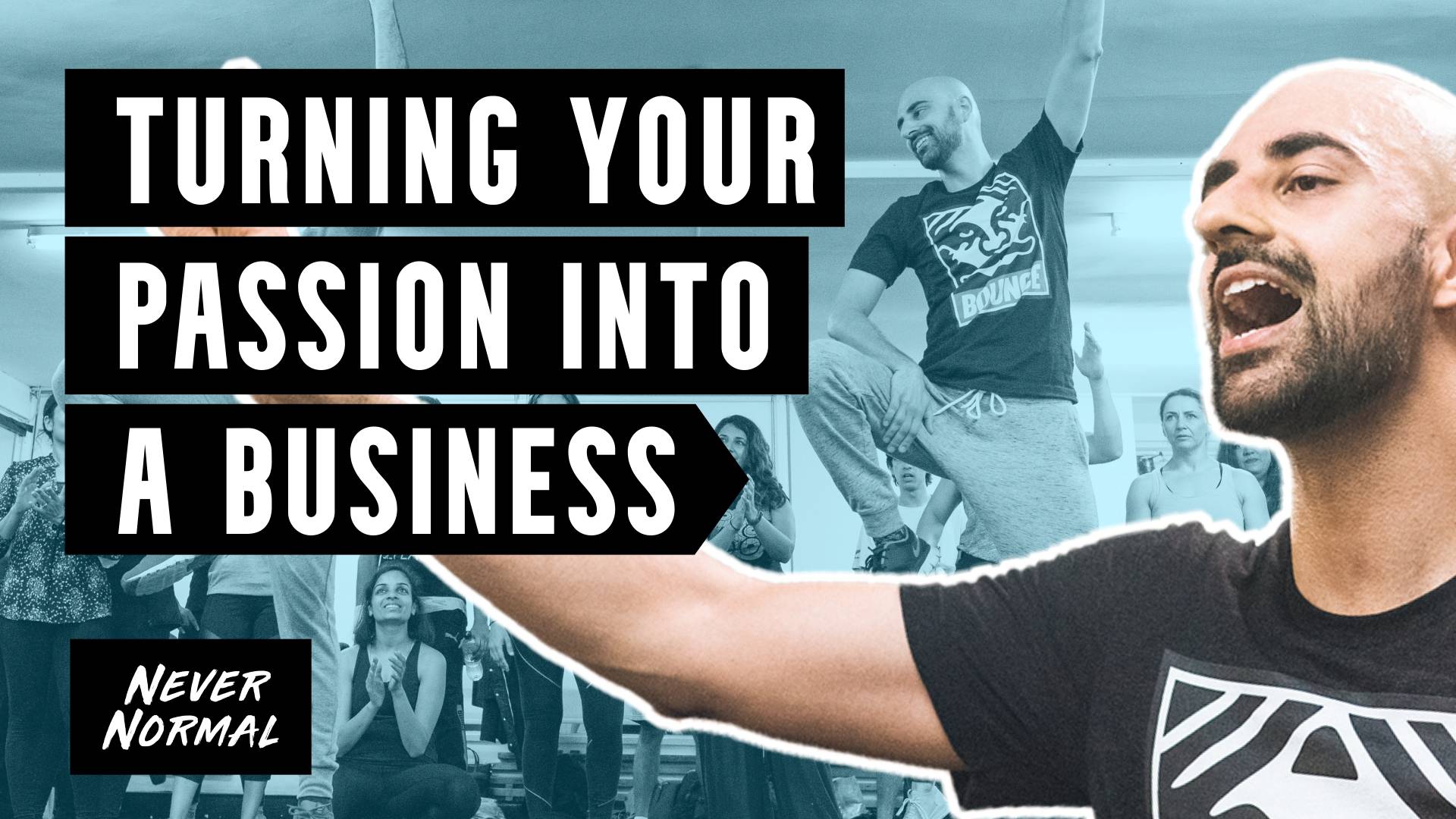 Highlights:
How do you survive during an unpaid sabbatical?
What Vikram learned about psychology from Elon Musk at University
The 2,000 year old ritual that Tim Ferriss still practices to prepare for adversity
If you want to start something new, should you burn your bridges or leave yourself an escape?
Overcoming the limiting belief that 'you are your job'
The massive lie hidden in our education and employment systems
The creative approach to work that unites the greatest thinkers from Richard Feynman to Ernest Hemingway, David Ogilvy, and Richard Branson
Tactics for tapping into your subconscious mind to overcome creative blocks
Dealing with the mental struggle of asking your first clients for money
The one common denominator that determines your success in any business or job
Should you "scratch your own itch" when starting a business?
How to deal with starting a business and having zero customers show up
What if you could keep your job and pursue your passion?
Vikram and I wrapped up the episode talking about "The Magic of the Internet" (a recurring theme on this show), micro-niches, and how the internet is "undoing the industrial revolution" for creators.
The magic ✨ we're referring to here is the idea that the internet makes it possible for people all over the world with the same niche interests to find each other.
Here's a perfect example…
36 Ways to Be Never Normal
Author, traveler, and fellow contrarian, Chris Guillebeau, recently shared this list of 36 Ways to Live Differently.
Chris is one of those people who I would have never heard of if not for the internet, but when I read his words, I feel like they were plucked straight from my own mind.
Many of the items on his list are things I've tried / do myself, like #21:
Stick to a schedule most days, and once in a while, break it entirely.

Some of the most ambitious people live the most boring lives—they know what they need to do, so they keep their head down and focus on that. But if you do that all the time, you risk becoming stagnant and stuck in your ways.
In fact, that's actually pretty similar to…
The advice I give to other digital nomads (and aspiring nomads).
You need to have a routine, or you'll never get anything done. Pick a place to base yourself that has all the basics —a comfortable place to work, solid wifi, good food options, opportunities to socialize and exercise.
Base yourself in a place like that for a few weeks to a few months at a time and explore the area at an unhurried pace, outside of your work hours.
Then, take side trips (or 'bookend' your stay with short trips) to other exciting destinations.
For example, you might base yourself in bustling Bangkok, where you have all the amenities in the world to stay productive, have fun, and eat (very, very) well.
Spend a month in Bangkok, then you could do a side trip or a stopover in Siam Reap for a few days to see Angkor Wat and the other temples in the area (my favorite was Ta Prohm aka the 'jungle temple').
This is a lesson I learned the hard way.
When I first started my adventure as a digital nomad, I was moving around way too often, constantly disrupting my routines, and then wondering why I struggled to stay productive and fit while traveling.
It also took me a lot of trial and error to figure out that some places are great to visit, but less than ideal for long stays and working.
In case you haven't heard…
I'm taking all of those lessons I've learned since becoming a digital nomad in 2012 (and advice I've given to help others become digital nomads too) and packaging it all into a course that I will be teaching live.
I can't wait to tell you all about it!
That's all for this week. More soon!
Not a subscriber?
I write occasional emails to share what I'm thinking, learning, and doing. It's all related to the idea of breaking free from the "default plan" in life.
Want to learn along with me? Join my Never Normal Newsletter: